Kilmacolm Civic Trust (KCT) is happy to present a database of Kilmacolm houses (1870-1930), many of them architecturally significant, which has been compiled by Frank Arneil Walker. This database contains information relating to the location and history of each property together with images of the houses and links to the architects involved.
The arrival of the railway in the late 1860s marked a turning-point in the development of Kilmacolm village. Improvement in communications with Glasgow and the Clyde coast quickly led to a period of significant residential growth characterised by the building of many large late-Victorian and Edwardian villas. These houses, many with mature gardens, contribute much to the environmental attraction of the village today.
Over the years between 1870 and 1930, a number of Scotland's leading architects were responsible for the design of many of these houses. Among those whose works can be found in and around Kilmacolm were James Salmon, William Leiper and Sir John James Burnet. But perhaps the most notable contribution was that of Charles Rennie Mackintosh, whose distinctively Scottish 'Windyhill' continues to draw admirers from around the globe, while the most ubiquitous was undoubtedly that made by local architect James Austen Laird, whose numerous detached and semi-detached villas impart a modest but consistently attractive Arts and Crafts quality to the village scene.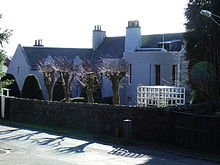 This legacy of domestic architecture has led Frank Arneil Walker, a resident of the village and Emeritus Professor of Architecture at the University of Strathclyde, to undertake the compilation of a data-base of houses built in the village between c.1870 and c.1930.
You can view and search this database by clicking on the button below. If you have additional information which will augment the database or amend it in any way this will be welcome. Please contact Frank by clicking on the information button beside the house in question and then the 'Contact Frank' link.'